JUMP TO RECIPE
So you're thinking about enjoying a nice delicious slice of keto chocolate cake? The chocolate fudge icing melts in your mouth as it slides down your throat. Okay, I'm doing too much, but let's carry on.
What Is The Keto Diet?
The Keto diet, also known as the Ketogenic diet, focuses on eating high-fat and low-carb foods to get your body into ketosis. You typically want to consume 20 g of net carbs per day for your body to enter ketosis.
Ketosis is essentially when the body is forced to burn fat due to a low carb intake. During ketosis, the body will burn fat as a fueling source and produce ketones to energize the body when there is a low carb and sugar intake.
The Keto chocolate cake recipe is high in fiber which is conducive to helping you feel fuller longer! This Keto chocolate cake is super delicious without containing sugar, dairy, or grains is mind-blowing!
Keto Chocolate Cake Recipe: The Best Cakes On Earth?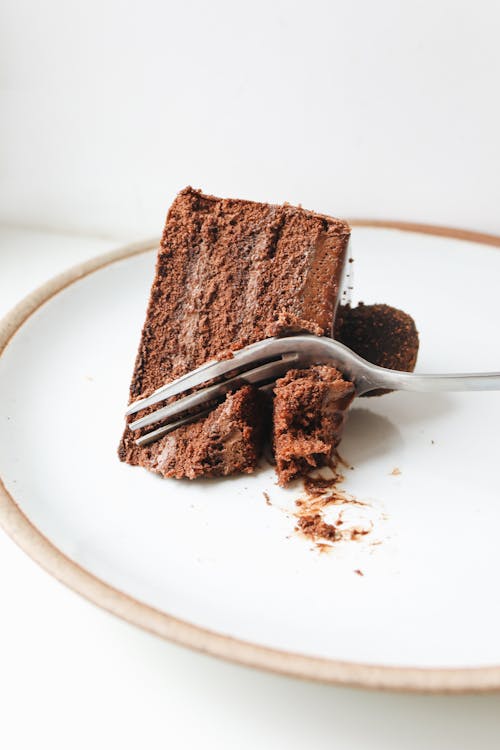 The Keto chocolate cake recipe is our go-to recipe during a time crunch. It takes mere minutes to prepare and comes out perfectly every time! Sure, more complicated recipes out there will give you a more professional-looking result, but this is our favorite because it tastes so incredible.
How to Make a Keto Chocolate Cake
Chocolate cake is one of the most popular cakes in the world. But what if you want to make a keto version of this delicious treat? Not to worry, this recipe is perfect for anyone following a keto diet.
Just follow these simple steps, and you'll be able to enjoy a fluffy, chocolatey cake that's bursting with flavor!
When trying to live a healthy eating lifestyle, cravings for sweet and decadent food are common.
Keto chocolate cake is the best of both worlds, as it allows you to eat healthy while enjoying a nice, sweet, and decadent treat. This keto chocolate cake recipe is both delicious and healthy simultaneously!
What Makes This Chocolate Cake So Special?
This keto chocolate cake recipe is hands down the best cake on earth! It's fluffy, rich, and chocolatey without being too heavy or dense. It's also perfect for a special occasion, as it holds up well in terms of flavor and texture even after days of baking. Plus, it's super easy to make!
Flavors of the Keto Chocolate Cake
When it comes to chocolate cake, there are few things as classic as the original recipe. But that doesn't mean you can't experiment with this delicious dessert and come up with your unique version.
This keto chocolate cake recipe is one of the best you can make and is sure to satisfy your cravings.
The main ingredients in this cake are cacao powder and butter so that it will be rich and chocolaty. But unlike many other chocolate cakes, this one uses a combination of almond flour and coconut flour to give it a nice texture.
In addition, eggs are also used to give it a sturdy structure. And finally, the baking powder helps to create a light and fluffy cake.
Let's Make the Cake!
Okay, enough of the informational jargon. Let's bake! You will be surprised how easy it is to make this cake and how delicious and moist it is. I love to eat this cake followed by a nice cold glass of oat or almond milk!
The cake only takes 15 minutes to bake, how amazing is that? Without further ado, it's time for you to make this delicious Keto chocolate cake. If you decide to make the cake please let me know what you think about the recipe in the comments section below.
The Ingredients are as follows:
-1/4 cup of almond flour
-1/4 cup of cocoa powder
-1/2 teaspoon of baking powder
-2 eggs, beaten
-3 tablespoons of coconut oil
-1 teaspoon of vanilla extract
-3 tablespoons of water
-1 scoop (15 grams) of chocolate whey protein powder
-Stevia to taste (optional)
Instructions:
Mix the almond flour, cocoa powder, and baking powder in a mixing bowl.
2. In a separate mixing bowl, beat the eggs and water. Add the coconut oil and vanilla extract to this mixture.
3. Add your protein powder to this mixture.
4. Pour your wet ingredients into your dry ingredients and stir until there are no lumps in the batter.
5. Add in your stevia to taste, if desired.
6. Bake in a medium-sized baking pan on 350 degrees for about 15 minutes or until golden brown on top.
Keto Chocolate Frosting
Ingredients
-1 cup or two sticks of unsalted softened butter
-2 cups of powdered erythritol
-3/4 cup high-quality unsweetened cocoa powder sifted
-2 teaspoons of vanilla extract
-3 tablespoons of heavy whipping cream; add more as you need
-Small dash of salt
Instructions
In the bowl, stand mixer fitted with a paddle attachment, hand mixer, beat the butter on medium speed until light in color and fluffy, 2-3 minutes.
2. Add the powdered sweetener and cocoa powder, slowly mixing until they are well combined.
3. Mix in the vanilla extract, cream and salt. Increase mixing speed to medium, and beat until it becomes fluffy around 2 to 3 minutes.
Note: You can adjust the sweetness and sweetener levels or cream until the desired consistency and sweetness are reached.
Keto Diet Information
If you would like more information on the keto diet I recommend getting these two books from Amazon. The books are filled with information and delicious recipes to help you stay on the keto diet while eating great tasting food!
This page contains affiliate links. If you choose to purchase after clicking a link, I may receive a commission at no extra cost to you.